Year 4 - pangolin

Hello!
Welcome to Pangolin Class!
This year, our class name is pangolin. A pangolin is the most trafficked mammal in the world. It is trafficked for its meat and scales, which are used in some traditional medicine. Their scales are made of keratin, which is the same material our nails and hair is made out of, which some believe has healing powers.
There are eight species of pangolin in the world, four of which are native to Asia and four of which are native to Africa. We have been learning about the African pangolins, as we are focusing our learning on Africa. Pangolins use their scales to protect themselves, rolling up into a ball when they feel threatened. Did you know that some pangolins tongues are as long as their bodies? They also have no teeth! If you want to find out more about pangolins, ask someone from our class as we have become pangolin experts!
Over the next year, we are going to be learning about a variety of things. We will be learning about the Ancient Egyptians and the Victorians in History. In science we will be learning about electricity, living things and their habitats and digestion! We will also be having weekly French lessons, and reading some fabulous texts in English. We will be starting with Tom's Sausage Lion by Michael Morpurgo. Maths is also action packed and the children in our class will be building their knowledge on a range of topics. Have a look at the Year 4 Curriculum Map below to find out more!
Class Film
Year 4 Curriculum Map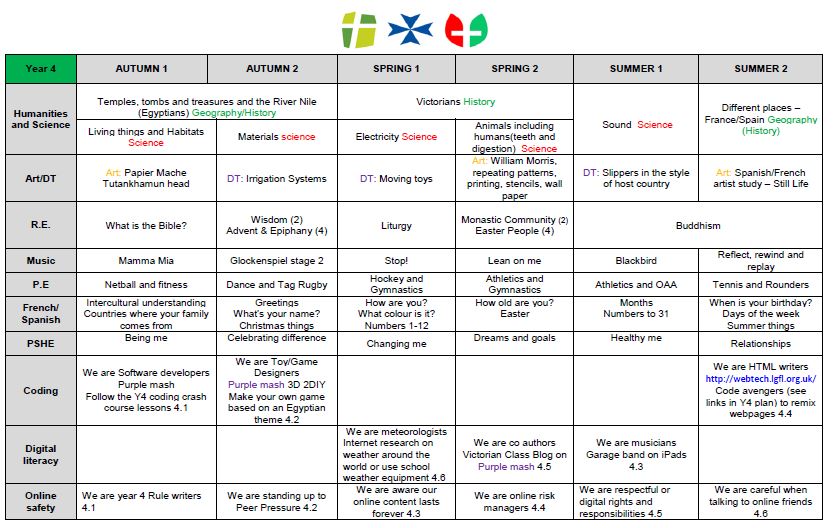 Spring Term
Please see below what Year 4 are learning this term. If you click on the documents, they will open into a large version.
The documents are Knowledge Organisers. They contain key facts and information that the children need to have as a basic knowledge and understanding of the topic – giving them the 'bigger picture' of what they will be learning at school.
Purple Mash
Please click on the picture below to access the Purple Mash website. Please ask your child's teacher if you are unsure of the log in details.


Click here to be directed to our Purple Mash information page.
Reading
Please click on the links below to access different online stories that children can read or listen to. Most of them do not require you to sign up. Enjoy!
Physical Activities
Keeping active is really important. Please try and do some physical activity everyday for 30 minutes.
Websites
Other useful websites:
White Rose Daily Maths Problems